Software Product Development Company. Turning Vision Into Success Stories!
We help accelerate growth through full-cycle software product development services designed and delivered intelligently. We excel at developing software solutions with the right mix of people, processes & tools.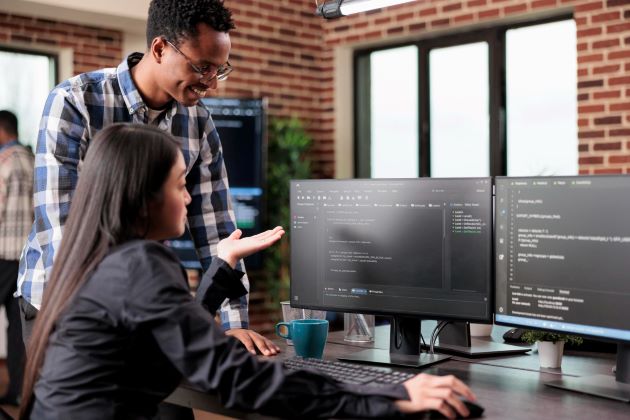 What We Do
Dtech Services
We strive hard to do the best for our clients!
Our Company's End-to-End Product Development Services!
Dtech Systems helps you build reliable and scalable software applications, whether it's mobile app development or web application development, to meet your business objectives. We have marked a place of reliability and trustworthiness globally by offering a variety of software development solutions under one umbrella. Our team leads the entire product development process from concept to delivery and to ongoing support. Check out our exceptional development services that turn your idea into reality.
We at Dtech always try to get into our customer's business and figure out the best-fit solution that helps us save resources without compromising on quality, and the results are below.
OUR TOP PROJECTS
Case Studies
From Challenge to Triumph:
Discover how our strategic approach overcame unique challenges, resulting in remarkable product solutions that exceeded client expectations.
OUR CORE TEAM
Check Who's Behind Our Success!
Customized Software Development Company's Team
We are a dedicated team of 50+ developers, designers, and innovators that have designed and developed 100+ software solutions across industry verticals. Our attention to detail and quality is unmatched.
We developed a great partnership with Dtech. Their team is efficient & accommodating. Communication is excellent & always available. I must say the experience has been excellent.
Dtech did an excellent job on my website. Their teams are experts when it comes to the development of e-commerce portals. They worked on budget and were on time.
Dtech not only fixed the glitches in our website but streamlined & enhanced its functionality. Their solutions definitely played a role in helping us grow. Highly recommended.
We wanted to offer quality food delivery services. Dtech was able to provide us what we exactly needed despite the tight deadlines. Their teams went extra miles to deliver the apps.
Ready to Innovate? Let's Talk!
Whether you're a startup with a disruptive idea or an established business seeking digital transformation, D-Tech Systems is here to be your trusted software product development partner. Our comprehensive services include Magento e-commerce development services and software testing and QA, ensuring a holistic approach to your digital success. Let's collaborate to turn your vision into a tangible digital reality that propels your business forward.
Are you ready to take the next step towards innovation? Contact us today to schedule a consultation and discover how we can help you bring your software product dreams to life.
Experience the Future of Software Product Development with D-Tech Systems.
Contact Us
Tell Us About Your Project
We'll contact you within one business day to discuss your requirements.