Driving Success through Strategic Product Development
Think of us as your technical co-founders, leading the way from brainstorming to launch and beyond. We'll turn your ideas into tactile digital products.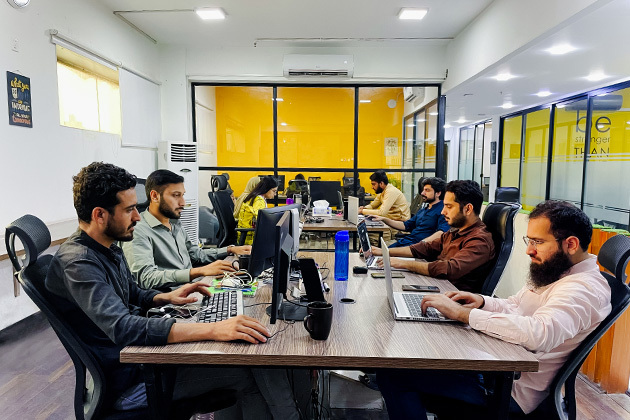 Contact Us
GET IN TOUCH
Your idea is priceless, and we are all about respecting that. So, let's make it official with an NDA before you spill the beans. It's like our way of saying, "Your secret's safe with us!"
What We Do
Our Services
Here's the deal: Dtech Systems is all about bringing your brilliant ideas to life through scalable product development. We will have you covered from everywhere, from brainstorming ideas
to market research to slick documentation.
We're in this to help you with user acquisition, scalable growth, and recurring revenue. After all, that's the end game, right? So, think of us as your launch partner on this endeavor with continuous momentum. Rest assured, you can rely on our unwavering dedication to ethical conduct.
Collaborative sessions to define project goals, target audience, and key features.
Incorporate user feedback for iterative improvements
Smooth deployment of the finalized product with ongoing support.
Rigorously test your ideas for feasibility and market fit.
Develop a Minimum Viable Product (MVP) to validate the market.
Refine and enhance your concept based on real-world insights.
Crafting personalized e-commerce solutions for businesses.
Creating robust online shopping experiences with advanced functionality.
Integrating multiple advanced features for a smooth user experience.
Collaborative sessions to define project goals, target audience, and key features.
Incorporate user feedback for iterative improvements
Smooth deployment of the finalized product with ongoing support.
Conduct in-depth analysis to identify strengths and areas for improvement.
Streamline processes and resources for enhanced project efficiency.
Identify and address potential issues to ensure project success and delivery.
Assessment of current project status and challenges
Identification of critical issues and bottlenecks
Development of a recovery plan and timeline
OUR DEVELOPMENT CYCLE
Discover Our Agile Product Development Approach
Here's the game plan: five interlinked steps to develop a winning product. We approach them in a well-thought-out sequence for prime results, cost-effectiveness, and minimal revisions.
Phase 1: Project Conceptualization
In the first stage, our priority is to define the mission statement and establish the initial conditions that will contribute to a productive implementation of the project. This phase includes:
Idea discussion & requirements
Scope of work document (SOW)
Sprint plans with deliverables & deadlines
Phase 2: Idea Testing & MVP
Using MVPs we can quickly validate our ideas and have solid ground on which to develop successfully. In this phase:
SWOT analysis
Market Research
Competitor Analysis
Value Proposition
MVP Production
Phase 3: Design & Development
Here, our goal is to incorporate creativity in design and develop solutions that deliver an amazing experience to users. This step entails:
UI/UX design
Development
Staging
Production
Phase 4: Launch & Beta Testing
The next step is to ensure a smooth product introduction through meticulous testing and controlled release, gathering invaluable user feedback. Within this phase, we:
Software Test
Quality Assurance
Launch
Phase 5: Marketing & Ongoing Support
At last, our team fosters product success through strategic promotion and continuous assistance, ensuring sustained growth and user satisfaction. Here we cover:
Periodic upgrades
Marketing Plan
Monitoring ad spending and return
Adjusting campaigns as required
We offer mobile application development services in almost all of the latest technologies to ensure businesses establish a presence that fits all OS. We focus on understanding the nature of the project and then choose the frameworks and languages that fit the most.
Frontrend
Backend
Framework
Databse
E-commerce & CMS
Mobile
OUR TOP PROJECTS
Digital Product Development: Case Studies
Get the inside scoop on how we used a unique approach to conquer obstacles and deliver customized products that wowed our clients.
We at Dtech always try to get into our customer's business and figure out the best-fit solution that helps us save resources without compromising on quality, and the results are below.
OUR CORE TEAM
Check Who Will Lead Your Product Development!
Customized Product Development Company's Team
Our team of 50+ developers, designers, and innovators has tackled over 100+ product solutions across diverse business sectors.
We developed a great partnership with Dtech. Their team is efficient & accommodating. Communication is excellent & always available. I must say the experience has been excellent.
Dtech did an excellent job on my website. Their teams are experts when it comes to the development of e-commerce portals. They worked on budget and were on time.
Dtech not only fixed the glitches in our website but streamlined & enhanced its functionality. Their solutions definitely played a role in helping us grow. Highly recommended.
We wanted to offer quality food delivery services. Dtech was able to provide us what we exactly needed despite the tight deadlines. Their teams went extra miles to deliver the apps.
Ready to Shape the Future with Your Product Idea? Let's Discuss!
At Dtech Systems, we've got you covered – from testing your ideas and developing MVP to launching your digital product. And guess what? It's all at an unbeatable price of just $30 an hour, with a rock-solid 100% money-back guarantee!
Dtech Systems is here to turn your ideas into reliable, scalable products. From idea testing & MVP to launch & beyond, we lead the full development process. Discover exceptional solutions today.