DONE
Mobile App that provides the convenience of selecting services and gets things done from the nearest service providers. Dtech Systems was authorized to build a single app with two mobile interfaces. One for the service provider and the other for the service user. A dedicated provider and user panel along with user/customer website were also made.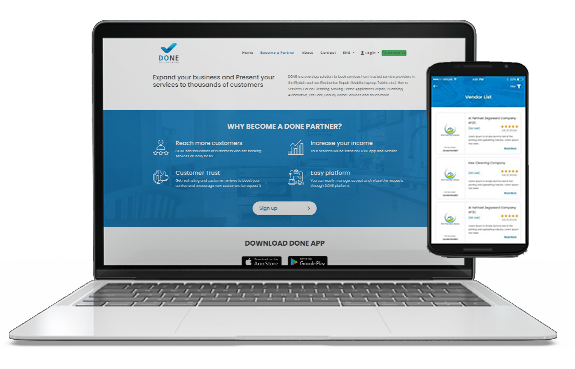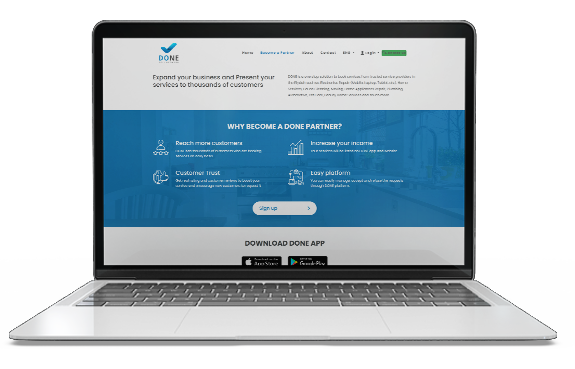 Problem
The key challenges are as follows:
Professional Application that lists services at your convenience
Bridge the gap between service providers and service users
Promote the services industry in KSA
Acquiring new customers through their online presence
Scale their business
Solution
Android and iOS Application with two flows
Service provider and User
Admin Panel for provider and user
User/Customer Website
Maintenance and support for the application and website
Done
Some of The main features and services provided to Done are given below:
Main and sub services:
All the main and sub-services are listed on the screen. The users are able to select a main service such as Cars and a sub-service such as Car wash. Only a two-level hierarchy is shown. The users can make selections as "Service at home" and "Collect and return".
Orders tracking:
All orders placed by the users are displayed as a list. The users are able to filter the orders based on pending, accepted, completed and failed statuses.
Hyperpay integration:
The hyperpay is integrated for all the credit card transactions and if the user selects Cash on Delivery as the payment option then no payment is done from the app.
Disputed job
In case a provider did not come but somehow marked the job as completed, the users will be able to mark that job as disputed by going on the order tracking sheet.