What did Jack Ma, Steve Jobs, Reid Hoffman, and Brian Chesky have in common? They all are successful founders of their companies, despite not having enough education or experience in relevant fields. For example, Brian Chesky, one of the co-founders of Airbnb did his majors in Industrial Design, before finding a gap in the market and establishing a massively successful startup. In short, all of these co-founders were good at finding the right technical skillset to be successful.
Finding tech people with requisite skills and competence is a significant challenge for non-technical founders. Not only is it hard to find them, but providing instructions to technical experts is also a difficult task.
While the unique strengths of non-tech founders contribute significantly, relying on tech experts is imperative for a product development company. Without a trusted partner, navigating the technical landscape can be daunting for a non-technical cofounder. Some of the most successful companies did not have technical founders, but they were really good at one thing: finding the most reliable technical experts to convert their ideas into reality.
Non-tech startup founders must seek individuals who not only possess requisite skills but also resonate with their vision. Articulating this vision clearly is paramount, igniting passion in potential team members. Prioritizing versatile hires is key, ensuring they meet present and future needs.
6 Factors to Consider While Hiring Tech Professionals for Non Tech Founders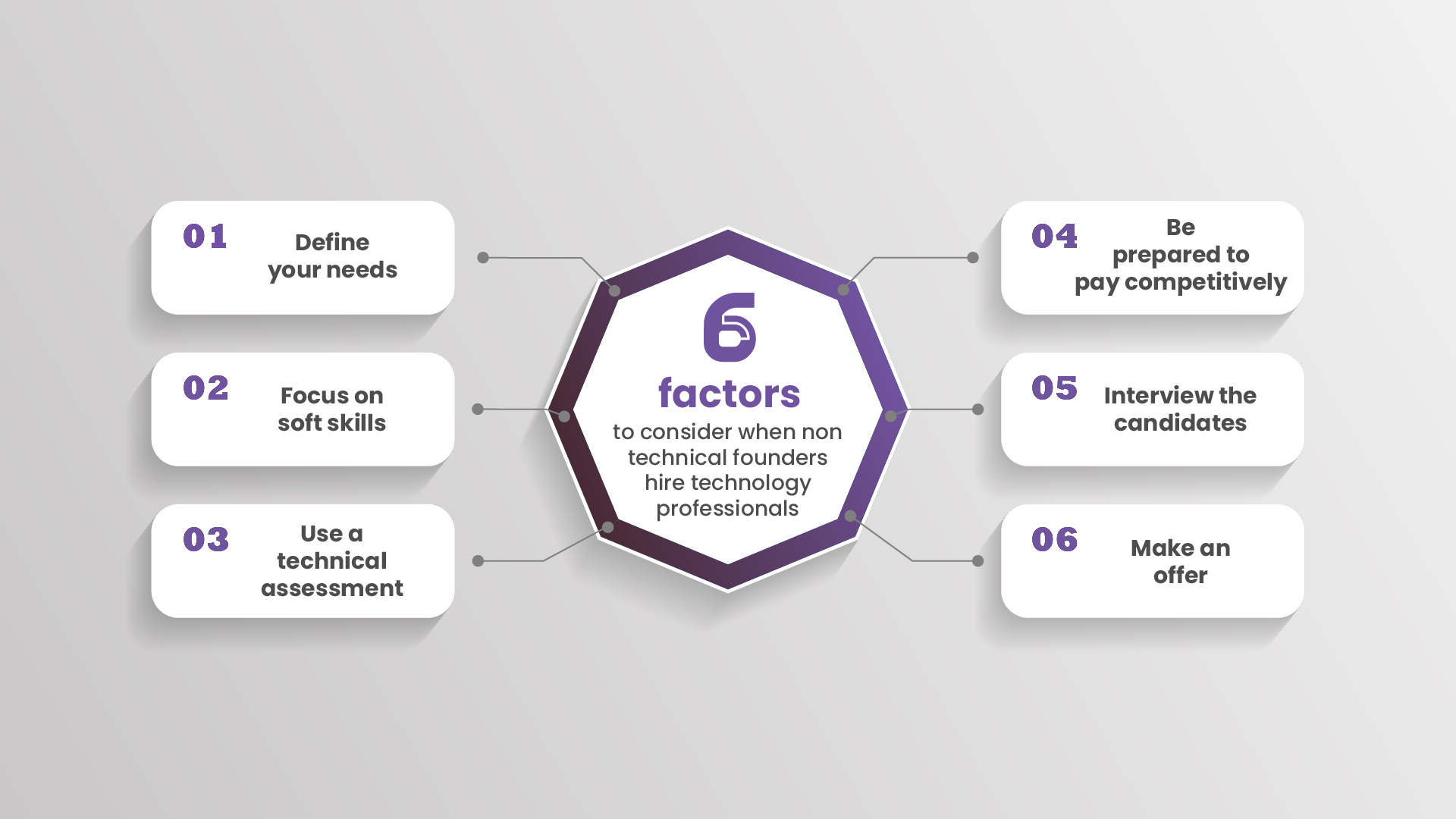 Define your needs
Defining the project needs should be the first thing such as idea testing and MVP development. One thing non-technical startup founders should consider is discovering whether any skills and qualifications are needed by their tech team. Remember that those people will be responsible for various tasks.
After doing this, we will come up with a good job description.
Here are some questions to help you define your needs:
What is the essence of your product's technology stack?
What are the main technical issues that your team will have to overcome?
What is your budget?
Focus on soft skills
Without a technical education, you can judge candidates on various "soft" criteria — for example, the ability to communicate or work in a team, or the ability to solve problems. As such, these skills are equally important technical skills and, in fact, even more so for early-stage startups.
Here are some specific soft skills to look for in candidates:
Communication: Can the candidate clearly and concisely communicate their ideas?
Problem-solving: Can the candidate think critically and solve problems creatively?
Teamwork: Can the candidate work effectively with others?
Work ethic: Is the candidate motivated and hard-working?
Cultural fit: Does the candidate fit your company culture?
Use a technical assessment
In case you are unsure of the way to gauge technically savvy candidates, you can utilize a technical assessment instrument. Such include coding challenges and other tests that may help recruiters discover the best people having appropriate qualifications.
Here are some popular technical assessment tools:
HackerRank: One of the best-known technological assessment tools, HackerRank, features numerous coding challenges.
CodeSignal: Another widely used technical assessment instrument with different types of coding exercises is the CodeSignal.
LeetCode: As a result, there are a number of websites but one notable one of them is LeetCode.
Be prepared to pay competitively
In the tech world today, the best talent will come at a competitive price and therefore, employers should also be ready to pay competitively. Search online for what other startups in your locale are paying for such positions.
Interview the prospects
The process of identifying potentially suitable candidates is followed by the actual interviews. Make sure you pose some technical and some non-technical questions.
Here are some technical questions you can ask:
How do you find our tech environment?
How does it work for you in terms of tech setup?
What were some of the technical issues that you've had to contend with and how did you resolve them?
Here are some non-technical questions you can ask:
What is your motivation for being considered to fill this position?
What are your career goals?
What are your strong points/weaknesses?
How do you handle stressful situations or pressured circumstances?
How do you handle conflict?
Make an offer
Having interviewed all the contenders for the post, it is now appropriate to extend an offer to the one best fit for it. An extensive package of details like salary, benefits, and starting date should be provided.
Technology founde­rs not in the technical field are prone to difficulties when it comes to hiring technology personnel or firms. Nevertheless, creating a high-tech unit for gre­atness dee­mandly possible.
Conclusion
Hiring technology professionals or firms may not be an easy thing, but it is essential for any startup to succeed. Following the provisions outlined above will increase the possibility of putting together an appropriate labor force for the company. You need to invest in a good technology team for your startup. When done right, it prepares you for success.
FAQs
How do I negotiate salaries and benefits with candidates?
While discussing salaries and benefits with prospective employees, one should be well-prepared. Conduct research into what other start-ups are paying in your locality for comparable positions. At this point, you must also calculate the cost of benefits that you should add to these offers.
How do I onboard new hires?
The onboarding of new hires is a crucial procedure that enables them to become productive within a short period and be part of the team. You could also develop a welcome packet that consists of details concerning the firm, the unit, and the position. Plan a meeting with the newly recruited person to go through their job description and expectations. Regularly check in with the new hire for updates and address their concerns.
How do I manage a remote tech team?
Although it is tricky to succeed in managing a remote tech team, it is achievable. Ensure that your team members know your expectations as well as the goals they should attain.
Provide regular feedback. You also have to keep giving your teammates feedback about their work more often than not. This will enable them to correct and keep them in line. Encourage communication and collaboration. Ensure your teams share information and cooperate. By so doing, it will develop a robust team culture.
How do I build a high-performing tech team?
It is not a simple process to build a high-performing tech team. Hire people with the relevant skills, experience, and passion for work. Develop a learning-based culture. Motivate your team to learn more and evolve. In turn, this will enable them to go with what is new in technologies and trends.
Facilitate opportunities for growth and advancement. Provide your employees with chances to develop within their professions. This will in turn motivate them and keep them engaged.